You know that look of joy on their face when they open a gift or package that is perfect for them. We want them to have fun but we'd like it even more if they can learn in the process. Here are the best educational toys for preschoolers. These can keep their minds busy while they have fun and give them something different to do.
Great learning toys encourage early reading skills, numbers and counting, solving puzzles, and creative thinking.
Squigz
First off, Squigz is a great fun toy that adds touch and sound to the play experience. Brought to you by Fat Brain Toys, they are made of 100% silicone (BPA and latex-free). It's a building toy but different than most. Encourages creativity, fine motor skills, interaction, and playful experimentation. Eight different, versatile shapes in the package.  The reviews are stellar. Kids love this toy. Pictured below.
Inchimals
Next up is Inchimals, an animal-based mathematical adventure! This toy is brilliant, designed for ages 3 and up. Kids can start learning addition, subtraction, measurement with the one-inch markers on each animal, expand vocabulary, and just have fun with the beautifully painted animals. 12 animals from 1 inch up to 12 inches. Write on-wipe off puzzle book features 100 puzzles included with an erasable pen. The reviews are really good too. Pictured below.
Ladybug's Garden Memory Game
This is an adorable memory game. Beautiful wooden ladybugs hide images on game board. Comes with 5 double-sided puzzle cards. Easy for small hands to maneuver. This game encourages fine motor skills, memory skills, and friendly competition. Very high quality. Comes with a lifetime guarantee.
---
Related Article: Reading Books for Kids
---
Homer Learn to Read
This is a great program for preschoolers. It's not really a toy but the kids won't know that. It is personalized to the child's interests and teaches letters and reading skills for ages 2-8. And it's surprisingly affordable. Homer has earned a few Teacher's Choice Awards, Mom's Choice Award, and others. The first 30 days are free and you can add up to 4 children. What a great gift that keeps on giving.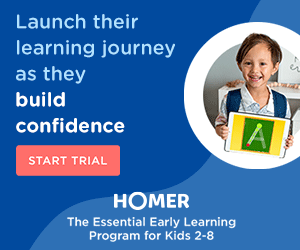 ---
Green Kid Craft Kits
Green Kid Crafts has kits and subscriptions for all ages. There are many for preschoolers for those doing preschool at home. I love the science kits which get them involved in creating while learning. Monthly subscriptions are available or individual kits.
---
---
Related Article: How to Learn How to Play A Guitar
The Preschool Box
This is a monthly preschool box with books and activities. Back when one of my kids was 3, we did a monthly preschool program. It was fun for both of us! They really look forward to the new box each month, and so will you.
---
Creative Canopy
While they're busy learning, here's a nice little nook for them to get some quiet time for reading, building or playing.
We all want to give them a good start on learning and nurturing their minds. These are some great toys that can do just that. If you have any questions, comments or experience with these toys, or others, please share it in the Comments section below.

Paula
Thank you for visiting! If you have any questions, additional suggestions, or comments, please share them in the Comments section below. Your privacy is protected. Thank you.