So you want to know how to learn how to play a guitar! Good for you. There are a few ways to learn how to play a guitar, but now with social distancing, in-person lessons aren't as practical as they once were. I have a great option for you. Kids as young as three, or even you, can learn how to play the guitar.
I have a couple of options for you. One is Loog Guitars and the other is Fender's Learn to Play program.
If you already have a guitar, check out Fender's Learn to Play program below. Online and with real certified instructors.
Loog Guitars created a new way for kids, or even adults, to learn how to play guitar. They have the perfect size guitars for different age groups. As I looked around at images for my main top image, I saw lots of pictures of kids trying to play a guitar that was too large for them. Loog has the answer. Real guitars that fit kids better, making it easier for them to enjoy the guitar at a young age.
And they aren't just 'play' guitars. They are real. The smaller guitars have 3 strings but sound like they have 6. It's easier for kids' hands to reach the strings (the neck is smaller), grasp the concepts, and start playing right away. They can easily adjust up to 6-strings later. And Loog does have new 6-string guitars too for the older kids and adults. Check out this video.
Learning Guitar As A Beginner
Loog guitars come with flashcards and a learn to play app for your phone. There are even live video classes on Saturdays. The app includes video lessons, a tuner, and even a digital songbook so you can learn guitar by playing real songs (Beatles, Stones, Taylor Swift, Bruno Mars, and more). Designed with kids in mind, the app makes it more of a game to get started playing real songs.
For adults, there are video lessons right on their website, given by a Grammy award winner. Click here to check it out.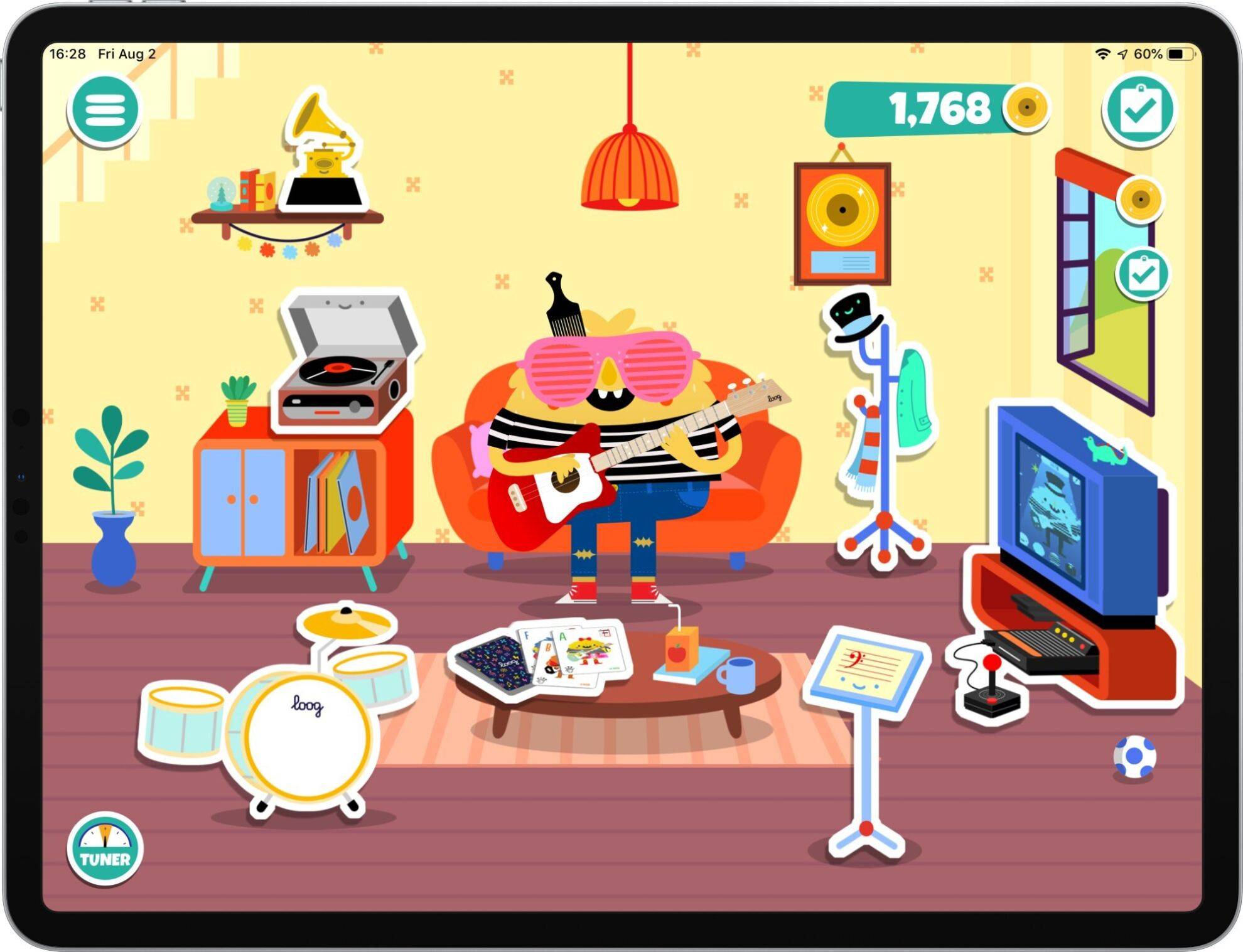 Loog App
Here's how the smaller 3-string guitars look for kids. Real wood, real strings, real guitar. And they sound beautiful.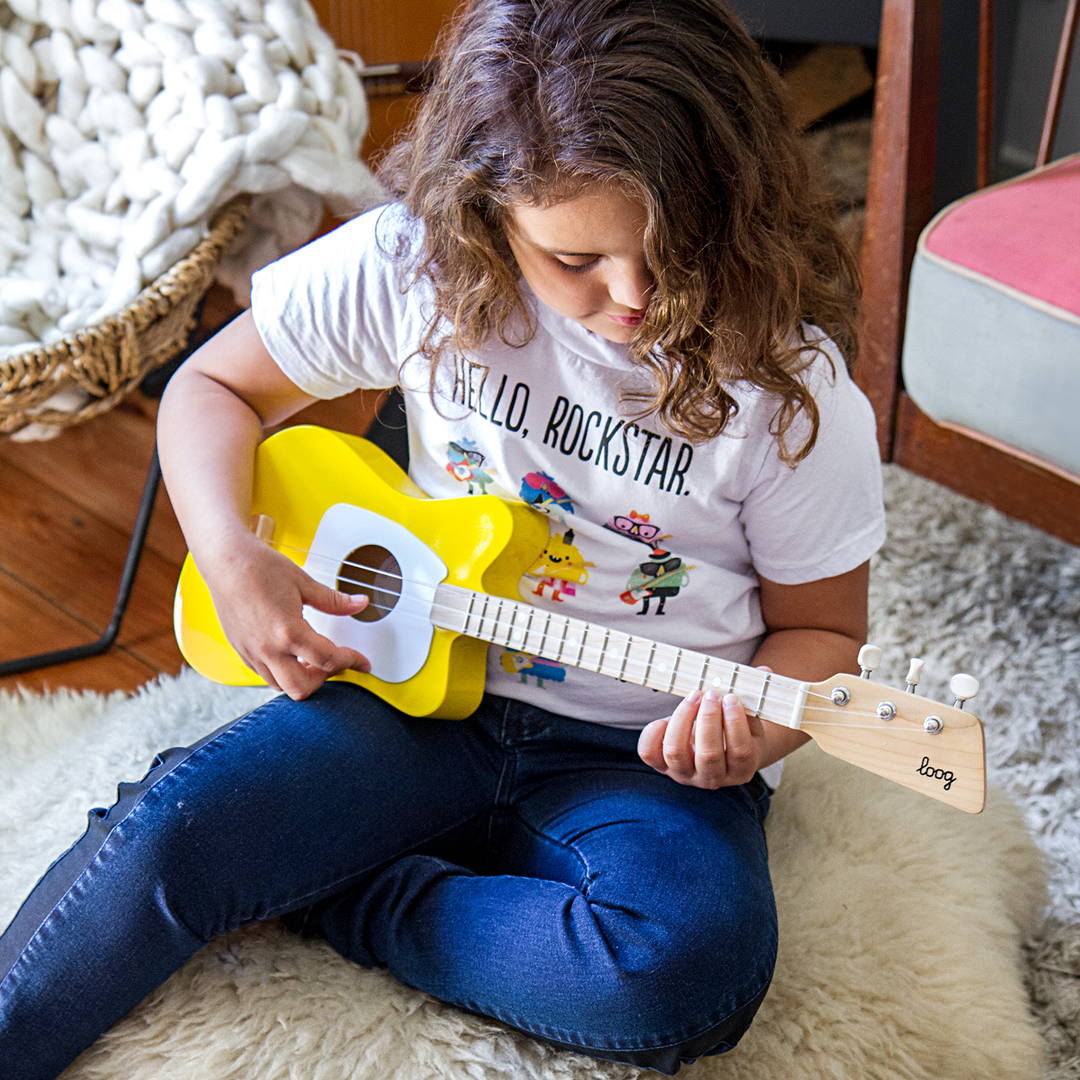 Add some real world music to their life!
What a great gift for a child. The gift of music. Or if you feel you need a little nurturing yourself, get yourself one too. You could 'jam' together. This is a great idea as an activity that you can do with your grandchild.
And, learning and playing music really develops a child's acedemic skills. It involves beats per measure, length of notes, and of course rhythmic strumming, which translates into developing brain skills. Data from the American Psychological Association (APA) found that children who study music score higher on math, science, and English skills (APA, 2019).
Click on any of the pictures here to get to the Loog website to learn more.
Electric or Acoustic?
You can do either one. Loog does have electric guitars. And they mention that it's just as easy or easier to learn to play on an electric guitar since the strings are closer to the fretboard. And you can learn and play on an electric guitar without an amp (amplifier). It's just quieter for your neighbors and family members. The newer models coming in October 2020 have a built-in amp.
Electric Guitars
More About Loog
Loog Guitar started in 2011 as a do-it-yourself kit but this wasn't for everyone. So they decided they'd rather have people just enjoy music and playing the guitar so they now only sell fully made and ready to play guitars.
Their mission is to make it fun and easy for anyone to play music.
Beautiful Guitars
Related Article: Best Educational Toys for Preschoolers
Fender Play Program – Learn to Play Uke or Guitar
Fender has step by step lessons you can follow along with on your phone or computer. They also have real instructors! They are the pros. Check them out. Great for brand new players.
If you already have a guitar and looking to learn, go with the Pros. Fender also has been making guitars for over 70 years. Many of the great guitarists have used Fender guitars and still do today. Trust the pros to teach you everything you need to know to get started and show off your riffs.

---
Wrapping Up
I hope this inspired you about a unique and memorable gift idea. Or maybe for yourself! Loog puts a lot of love into their guitars and their passion for music shines through with their products and their website.
Thank you for checking this out today. If you have any comments, questions, or experience with Loog or learning to play guitar, please leave them in the Comments section below. Your privacy is protected. Thank you!
References:
APA. (2019). Music Students Score Better in Math, Science, English Than Nonmusical Peers https://www.apa.org/news/press/releases/2019/06/music-students-score-better
---