Do you know a kid who loves puzzles or maybe you want to introduce them to puzzles and give them something different to do? 3D (and 4D) puzzles are the hottest trend in puzzles these days. I found the best 3D puzzles for kids, including some that can serve a function after they are put together.
Putting puzzles together is also a great activity to do with kids. It's engaging and a shared challenge. I've helped grandchildren put puzzles together and it's really fun helping each other and looking for pieces together.
3D puzzles just add to the fun. And they can be useful or add to the decor of the child's room or other prominent place in the home.
Here are the best 3D puzzles for kids. There are even a few 4D puzzles.
Younger Crowd – Ages 3-9
Build It Blueprint Puzzles
Great little buildings with blueprints for kids to put together. Perfect for ages 4 and up.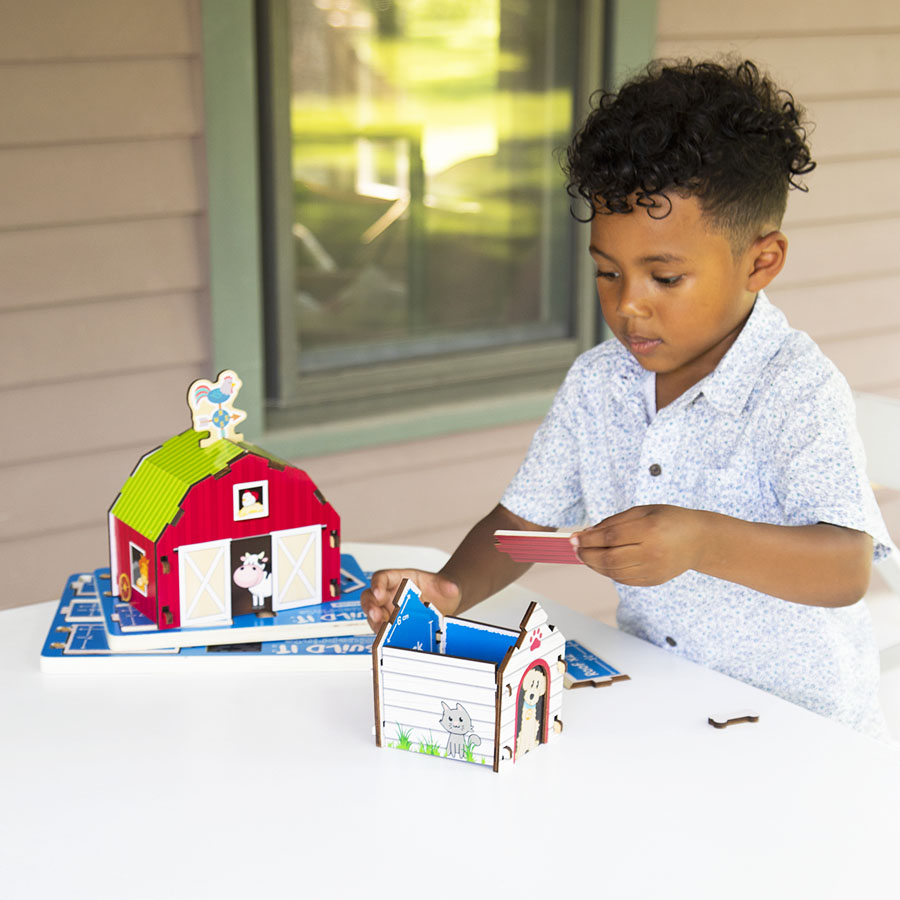 As an Amazon Associate, I earn from qualifying purchases. You don't pay more when buying through my links. Thank you for helping support this site.
Rubik's Twist
Ages 8 and up
Rubik's Twist with new colours and packaging! A twisting puzzle challenge that takes the form of thousands of shapes. Solve one shape and move onto another – or devise your own creation to defy your friends. Rubik's Twist – it'll charm you!

Rubik's Twist
Related Article: Best Educational Toys for Preschoolers
Growing Up Crowd – 10 and up
Wrebbit Big Ben 3D with LED Lights
Great 3D puzzle for kids ages 12 and up.
Assembled Dimensions: 18.9″ x 10.63″ x 28.74″ / 48 x 27 x 73 cm
One of the most loved models from our first generation of 3D puzzles, Big Ben is back bigger than ever with the addition of the Houses of Parliament. After the 2012 London Olympic Games and the renaming of the Clock Tower to Elizabeth Tower in honour of the Queen's Jubilee, this model should easily win the favour of many puzzle fans for many years.
Wrebbit Diagon Alley 3D Puzzle
Great puzzle for Harry Potter lovers ages 10 and up.
Assembled dimensions: 21.75 inches L x 7.75 inches W x 8.5 inches H
Wrebbit 3D puzzles have snug and tight fitting foam back pieces that are easy to handle. They are the sturdiest 3D puzzles on the market. Highest quality of design and illustration. Made in Canada.

Harry Potter: Diagon Alley
Wrebbit Hogwarts Express 3D Puzzle
Come on, step right this way! Get on board the Hogwarts Express for a magical journey to Hogwarts School of Witchcraft and Wizardry. Build this 460-piece 3D puzzle version of the iconic steam engine and embark on a voyage full of surprises! Assembled dimensions: 24.75 inches L x 3.5 inches W x 5.25 inches H.
Ages 12 and up.

Harry Potter: Hogwarts Express (460pc)- Wrebbit 3D Jigsaw Puzzle
Wrebbit Urbania City 3D Puzzles
All ready for ages 12 and up. Create an entire neighborhood with the companion puzzles as well.

Urbania – Cafe©
Urbania Cinema

Urbania – Cinema
Urbania Fire Station

Urbania – Fire Station
Ravensburger The Earth 3D Puzzle
Ages 12 and up.
The Ravensburger Earth 3D Globe Puzzle is built with 540 curved plastic pieces, engineered to securely snap together without the use of glue to form a smooth and sturdy globe. Each plastic piece features a detailed section of our Earth and provides a hands-on way to explore the globe from the comfort of your living room. Numbers and arrows are printed on the back of each piece to provide direction in the building process.
• HIGH QUALITY COMPONENTS – Ravensburger's 3D jigsaw puzzles will bowl you over with premium quality, in terms of both content and material.
• PRECISION FIT – No matter how large or small our puzzles, each is precision made so that every piece fits perfectly.
• EASY CLICK TECHNOLOGY – Individual pieces are so precisely made that you can actually hear a 'click' when you fit a piece into the correct place. 

Ravensburger 3D Puzzle – The Earth
As an Amazon Associate, I earn from qualifying purchases. You don't pay more when buying through my links. Thank you for helping support this site.
Wrapping Up
So many cool 3D puzzles. It's the hottest thing in puzzles right now. So be a hero and get the kids on your list some great 3D puzzles that will take their mind off of everything else and keep their minds busy. Gosh, you might even find that you want some for you too.
Thank you for visiting today. If you have any comments or questions, please leave them in the Comments section below. Thank you!