Do you know some children who love to cook or help cook? I know I do. Cooking gifts for children is a great idea. Cooking really helps kids feel helpful and productive. It also helps build science concepts.
Here are some great ideas to keep your children who love cooking happy and busy. With supervision of course.
These gift ideas were approved by my grandson, Leland, who loves to help cook.
Children Ages 3-8
My Backyard Toy Weber Grill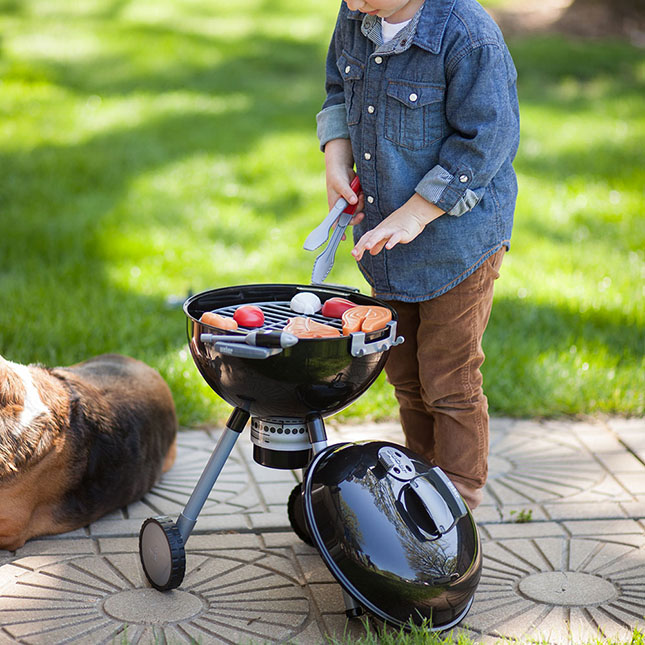 Give your little grill master the ultimate set up!
Press the button on the bottom of the coal pile and place it on the bottom grate. With a simple touch of the magnetic lighter – Whoosh! – The whole coal pile lights up and starts to sizzle with realistic sounds.
Place the larger grate into place and then start loading up the tasty foods – A T-bone steak, shrimp, a salmon steak, tomato, onion, and pepper…
You're in for a great big pretend-play feast!
Use the tongs to flip and stir your tasty treats as they cook beautifully over the hot embers. Place the lid on and keep an eye on the heat dial decal to make sure it doesn't over cook.
Complete with a removable ash-catcher and a vent that opens and closes, the kids' Weber Grill is going to bring to life a beautiful mealtime adventure little ones will want to fire up again and again!
My Backyard Toy Weber™ Grill
Kid-sized pretend play grill complete with all the accessories you need
Encourages fine motor skills, imaginative play, role playing, creativity, social skills
Fire up a delicious pretend-play experience!
Coal pile lights up and makes sizzling sounds with a touch of the included magnetic fake lighter
Features 2 grates, hangers for cooking tools, removable ash catcher, lid with opening vent, heat dial decal
Ultimate 'Real' Baker's Set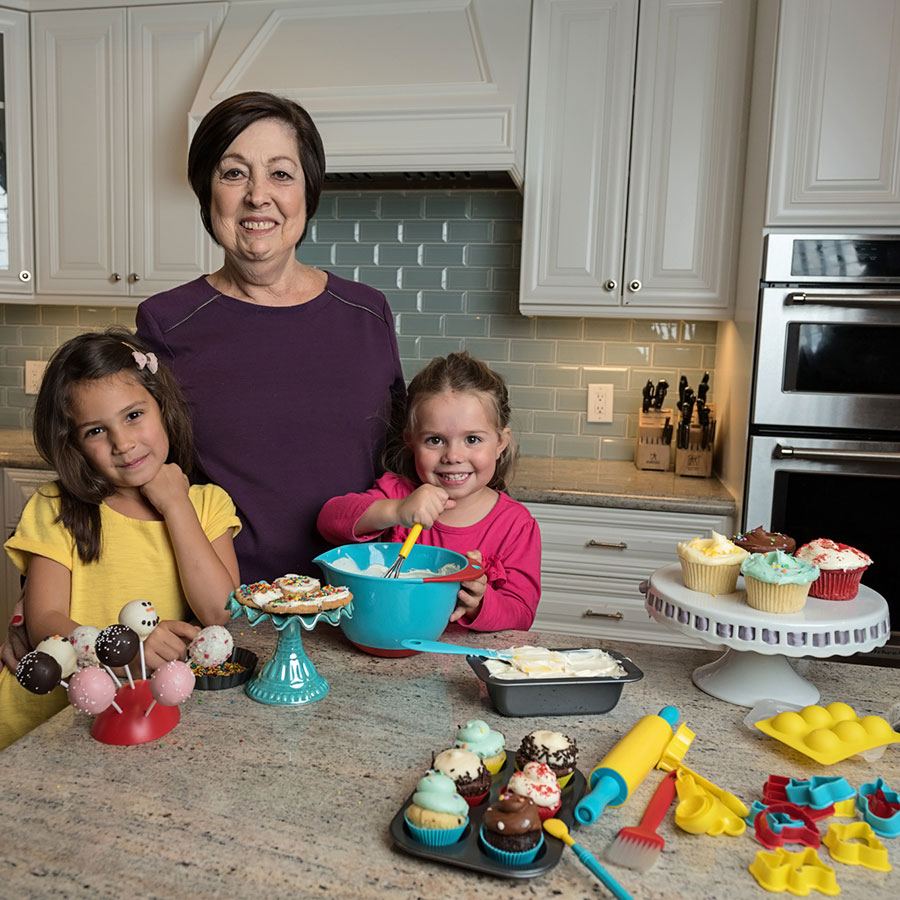 Everything your little one needs to become a REAL baker!
Sized perfectly for little hands, these kitchen tools make it easy for little ones to experience the joys of baking their own treats.
And yes, REAL baking – These aren't toys!
There's a cup cake tray, a cake-pop mold, a big mixing bowl with a silicone bottom that grips the table, stirring utensils, measuring utensils, even a decorating pen with 3 piping bags and 8 nozzles – And more!
Kids will feel like pros using their very own tools as they follow along with the 8 included recipes.
Make chocolate banana bread, candy brownies, mini cupcakes, and more – and then discover just how much better things taste when you've made them yourself.
With the Ultimate Baker's Set, kids don't just play – They do!
Ultimate Out of This World Deluxe Child Apron Set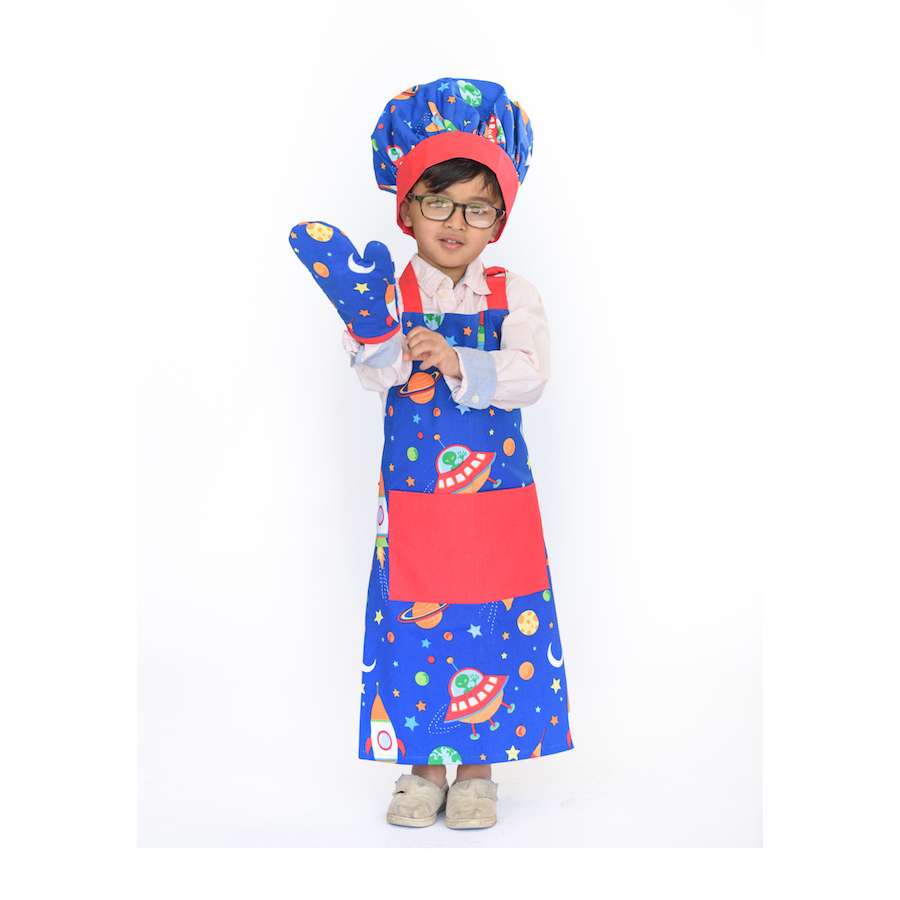 How cute is this apron set?
Get your little chef ready for an out-of-this-world kitchen adventure!
Featuring adjustable waist and neck ties, a big red pocket, and a fun planetary pattern throughout, this thrilling child-sized apron is the perfect accessory for making young bakers feel like true professionals (without losing their sense of playfulness).
Meanwhile, the included chef's hat only gives their imagination an even bigger boost and the matching oven mitt lets them really help out while learning all about kitchen safety.
Make them feel like they belong in the kitchen with the Out of This World Deluxe Child Apron Set.
Ultimate Out of This World Baking Party Set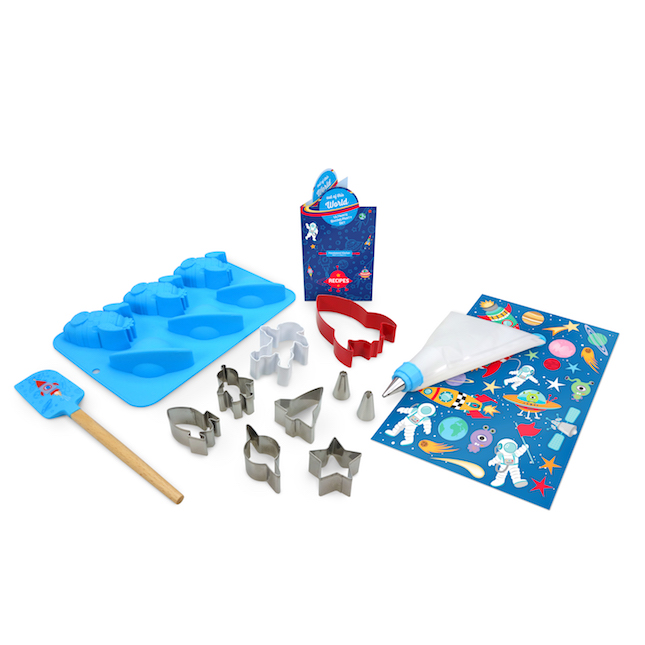 Everything you need for the ultimate intergalactic baking party!
Follow the included recipes and use the included baking tools to create a thrilling variety of out-of-this-world treats including Outer Space Sugar Cookies, Royal Icing, Out of this World Cupcakes, and Outer Space Frosting.
Kids get to let their creativity shine through baking using two large astronaut and rocket cookie cutters, five space-themed mini cookie cutters, silicone planet and rocket cupcake molds, a spatula, and best of all…
A frosting bag with 3 tips for drawing stellar frosting designs!
Discover the wonders of baking first-hand with the Ultimate Out of This World Baking Party Set.
America's Test Kitchen – My First Cookbook
From the creators of NYT Bestseller The Complete Cookbook for Young Chefs, America's Test Kitchen and an army of kid recipe testers, this awesome new cooking collection will get 5 to 8 year olds (and their grown-ups!) into the kitchen doing fun food projects together!
My First Cookbook will inspire the youngest chefs to enter the kitchen, empower them to cook, and engage their creativity–plus they'll have fun doing it. From simple after-school snacks, family meals, and holiday celebration recipes, each beginner recipe is developed by America's Test Kitchen Kids before being kid-tested and kid-approved.
As an Amazon Associate, I earn from qualifying purchases. You don't pay more when buying through my links. Thank you for helping support this site.
Fansisco 7 pcs Kids Plastic Knife Set w/Cutting Board & Cut Resistance Gloves
Suit for Different Occasions – These plastic knives can be applied to many occasions, such as birthday party, dinner gathering, family gathering, kindergarten teaching and so on, allowing the children to take part in cooking dinner with the family and developing their manual skills. Happy little chefs experimenting
Cute Gift – The kids knife can cut tomatoes, lettuce, strawberries, apples, kiwi, bananas and other vegetables and fruits, suitable for children to learn cutting. Kids knife with cute cartoon shape, it is a lovely and practical gifts for children on birthdays or holidays.
Children Ages 9+
Food Network Magazine The Big, Fun Kids Cookbook: 150+ Recipes for Young Chefs (Food Network Magazine's Kids Cookbooks)
It's the ultimate kids cookbook from America's #1 food magazine: 150+ fun, easy recipes for young cooks, plus bonus games and food trivia!
Teen Apron and Chef Hat
Kids apron and hat set is made from Polyester cotton blended fabric, comfortable, breathable and durable.
The full size kids apron is 18.5 inches wide x 28 inches tall with an adjustable neck strap and 20 inches long ties(each side), the chef hat with elastic band at the back for perfect fit, the child apron and hat set suitable for children aged 6 to 14 years old.
As an Amazon Associate, I earn from qualifying purchases. You don't pay more when buying through my links. Thank you for helping support this site.
Wrapping Up
I hope you found some great ideas for your favorite kids who love to cook. These are unique gifts that will keep them busy and happy for hours.
Thank you for reading today. If you have any comments, questions, or experience with any of these, please leave your comments in the Comments section below. Your email is always kept confidential. Thank you!